Certiflight participates in the Airspace Integration Congress, which brings together the best air navigation professionals
September 28, 2023
Certiflight has attended the Airspace Integration Congress held from 25 to 27 September at IFEMA, Madrid. This is the international air navigation congress that brings together the best professionals in the sector.
Certiflight's objective is to improve air safety and for this purpose it uses Galileo OSNMA feature to certify the flight tracks of drones and ultralight aircraft inside VLL airspace. Therefore, to make this project visible and to know the latest developments in the air navigation sector, Certiflight has been present and exchanged views with different agents within the industry.
Certiflight accompanied EUSPA (European Union Agency for the Space), the granting agency of the project. Ernesto Llorente a representative of EUSPA described Certiflight as "an ambitious project that is creating a whole ecosystem to establish reliable communications and reliable positional navigation through the authentication of OSNMA and the technology of blockchain".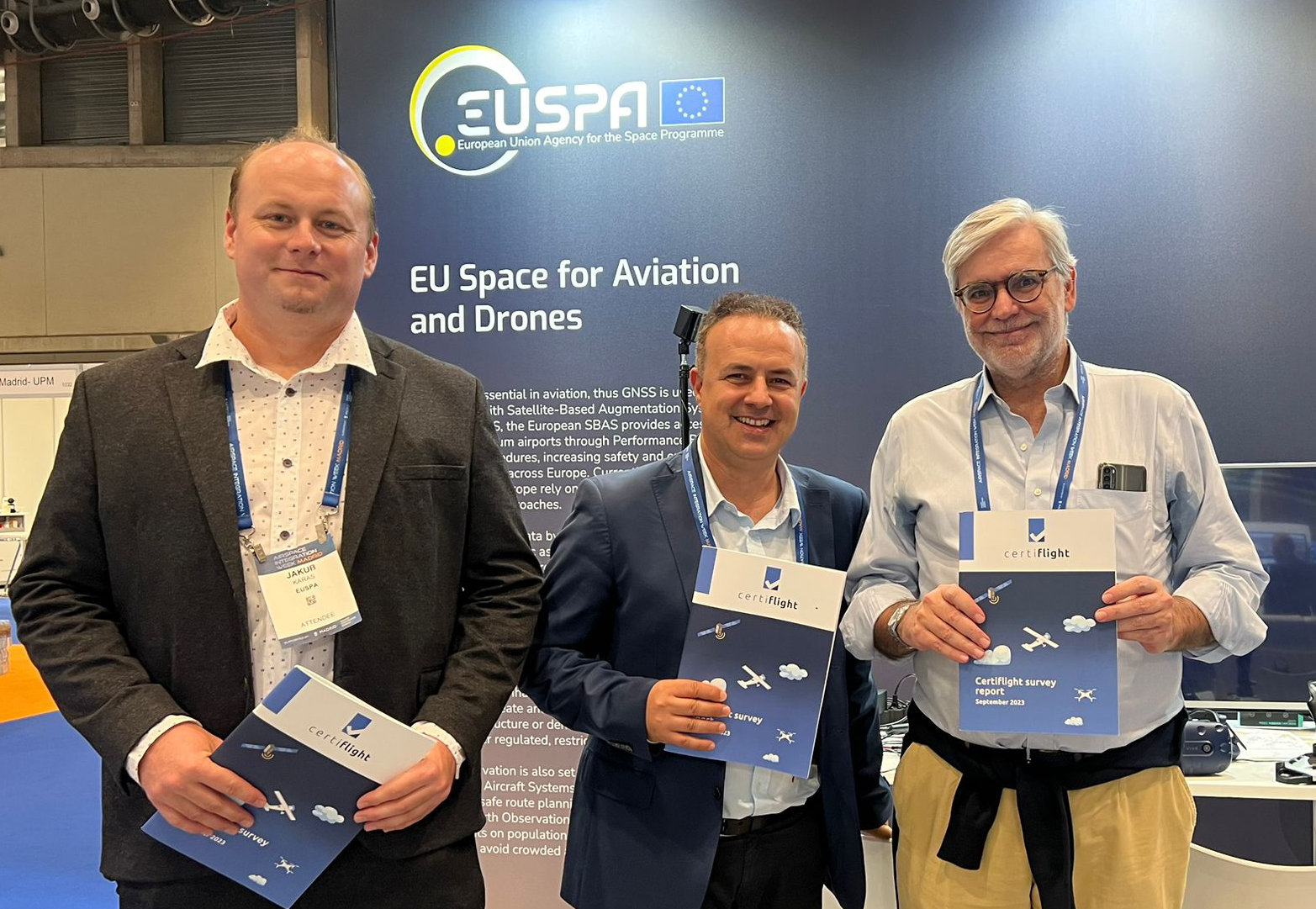 Representatives of Certiflight, such as Alberto Menella, project coordinator and Innovation Manager of partner Topview, Jakub Karas, CTO of UpVision and Manuel Oñate, CEO of EuroUSC España, attended the event.

The Airspace Integration Congress is the perfect opportunity to meet with aviation professionals to present them our proposed solution since they are our future clients and potential industry partners.
Manuel Oñate
Certiflight Communication and Dissemination Manager
Certiflight's presence at this congress is important because it highlights the latest trends related to the field of air navigation, bringing together more than 130 countries and encompassing all professionals in the air navigation industry.